Learn Anything Faster
15 minutes a day to unlock the superlearner in you.
Struggling to learn in a world of overwhelm?
Whether you're learning a new language, a new skill or studying for a qualification, one thing is common to all: there's too much information out there. It is easy to get overwhelmed.

Information is growing faster than ever and knowledge is quickly becoming obsolete. Keeping yourself up to date is the only way to stay in the game - whether you're an entrepreneur suddenly having to learn marketing, a professional pursuing a career-changing qualification or moving abroad to a new country with a new language.

With superlearning, you go from being overwhelmed to having a learning routine that helps you master anything. Fast.

According to McKinsey, superlearning is the #1 skill of the 21st century and the only way to thrive in a rapidly changing world.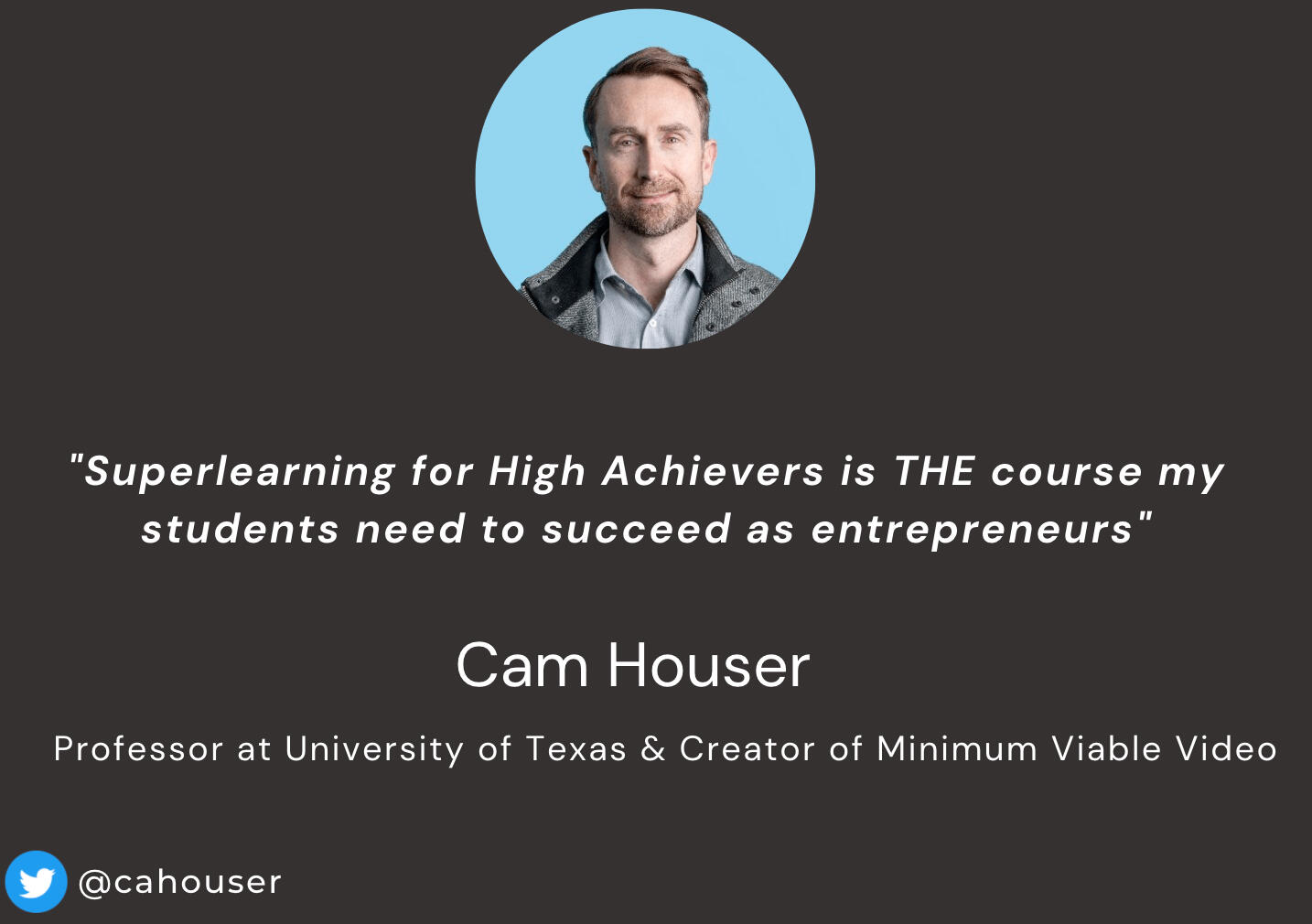 What is Superlearning for High Achievers?
Superlearning for High Achievers is a 6 week intensive course which teaches you how to develop and deploy a learning habit which will turn you into a superlearner.

With our superlearning method, you will learn faster and be able to master any subject with confidence.

You have the potential for superlearning right inside your skull. You just need to unlock it.

After taking this course, you will be a superlearning professional. You will become part of a small, global, highly-succesful elite.
People who benefit from superlearning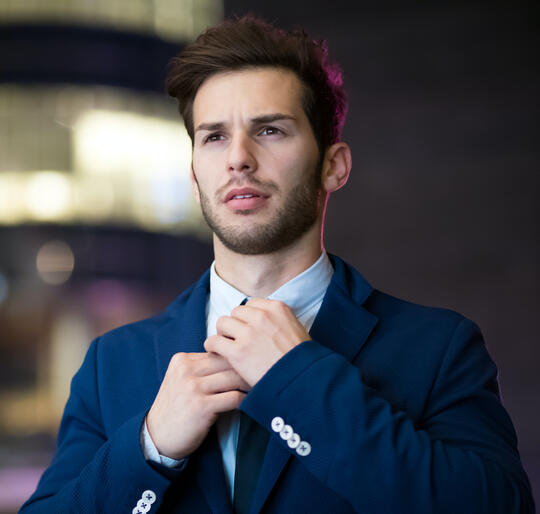 Professionals studying for exams
If you are a professional who needs to pass that one qualification to get a promotion and a payrise, you can use superlearning to get to the top of your field.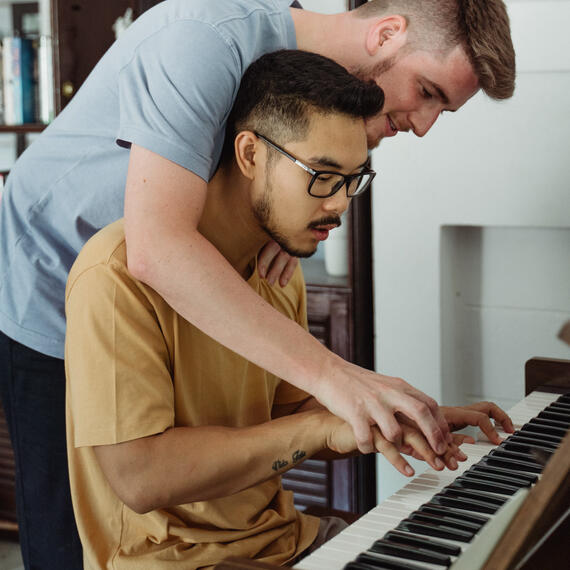 People learning new skills
If you are learning how to code, how to play a musical instrument or even how to juggle, superlearning techniques can ensure that you optimise your practice sessions for maximum improvement.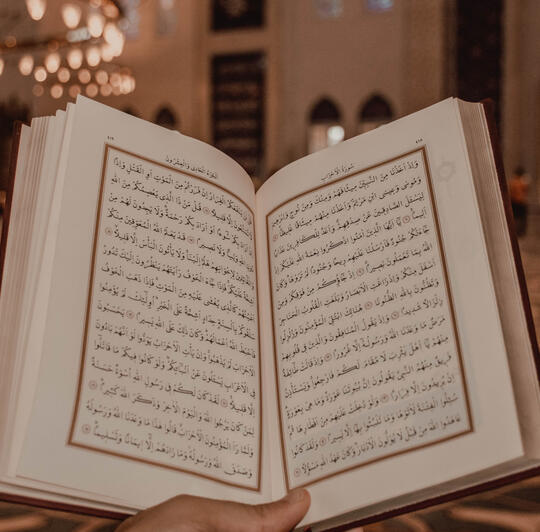 Language learners
Whatever your motivation for learning a language, it is hard. Superlearning techniques ensure that you don't get bogged down and continue to make consistent progress.
Welcome to Superlearning!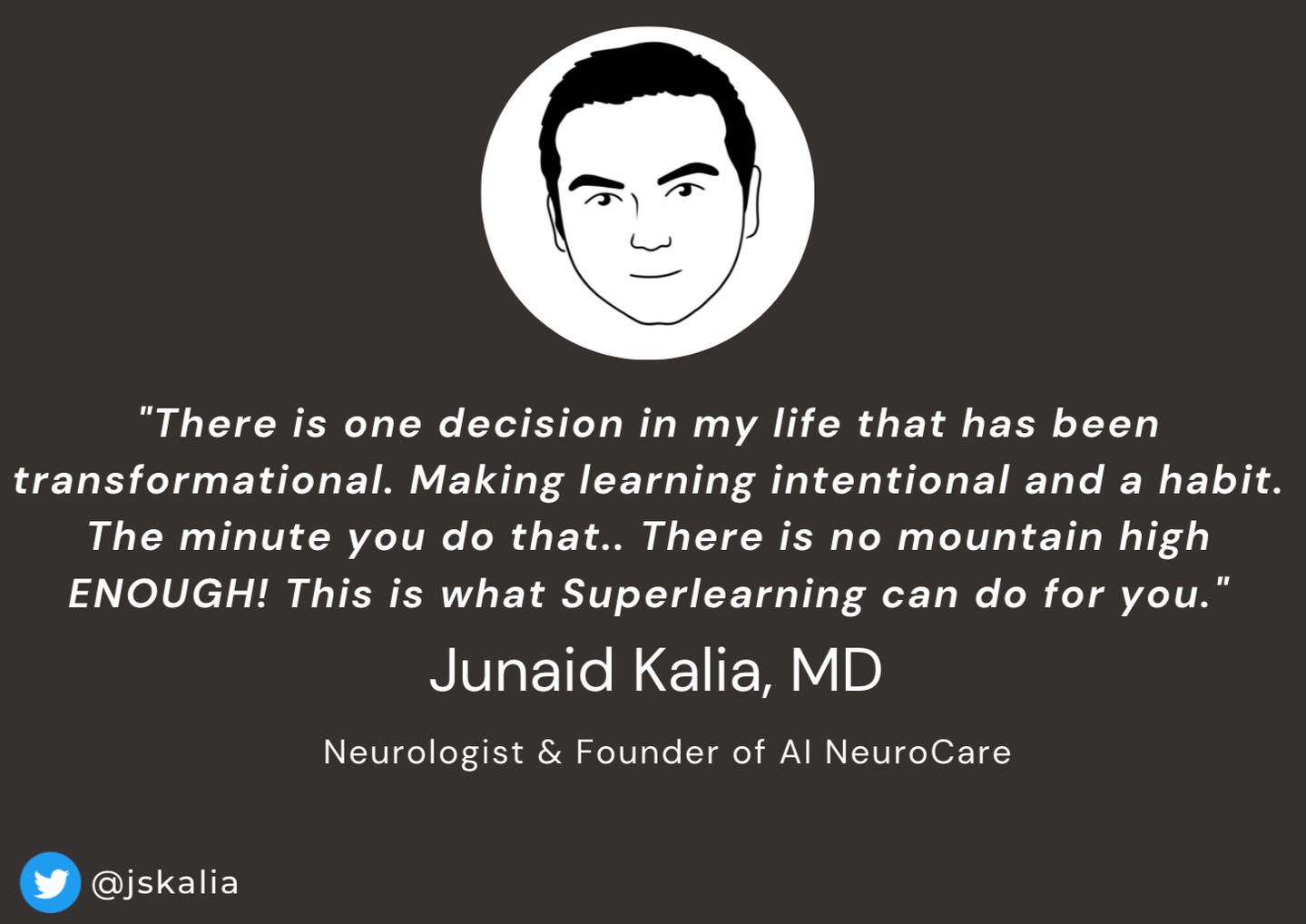 "Existing courses were trying to teach me Chinese, but they were not teaching me how to learn Chinese"
--- Dom
Science-backed methods
Despite significant advances in cognitive science in the last twenty years, the education system does not teach us how to learn.

We go through school and university using methods which are at best, inefficient, and at worst, ineffective.

Superlearning for High Achievers guarantees to teach you the methods and techniques that are proven to work, and can lead to significant* increases in learning ability.
Used by the world's greatest thinkers
Some of the world's greatest thinkers, creatives, philosophers and scientists have used these methods to supercharge their learning.

People like Benjamin Franklin, Socrates, Nikola Tesla, Elon Mush, Charlie Munger and Tim Ferriss have used these methods to great effect.

One would think that these methods are a secret. Weirdly, they're not. People have been using them for centuries (if not millennia), and yet, for some unknown reason, they aren't inculcated as part of the basic education system.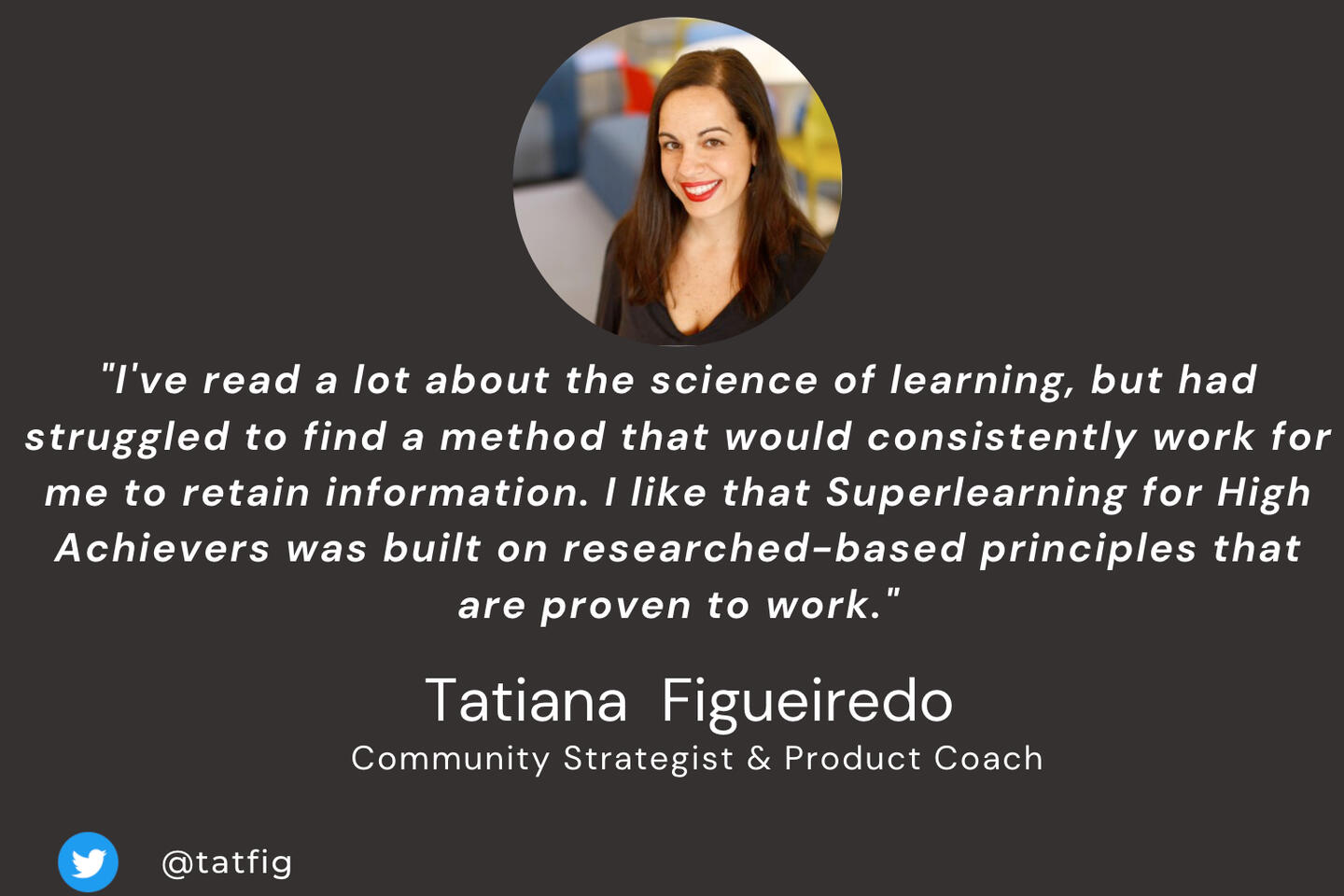 The Superlearning Transformation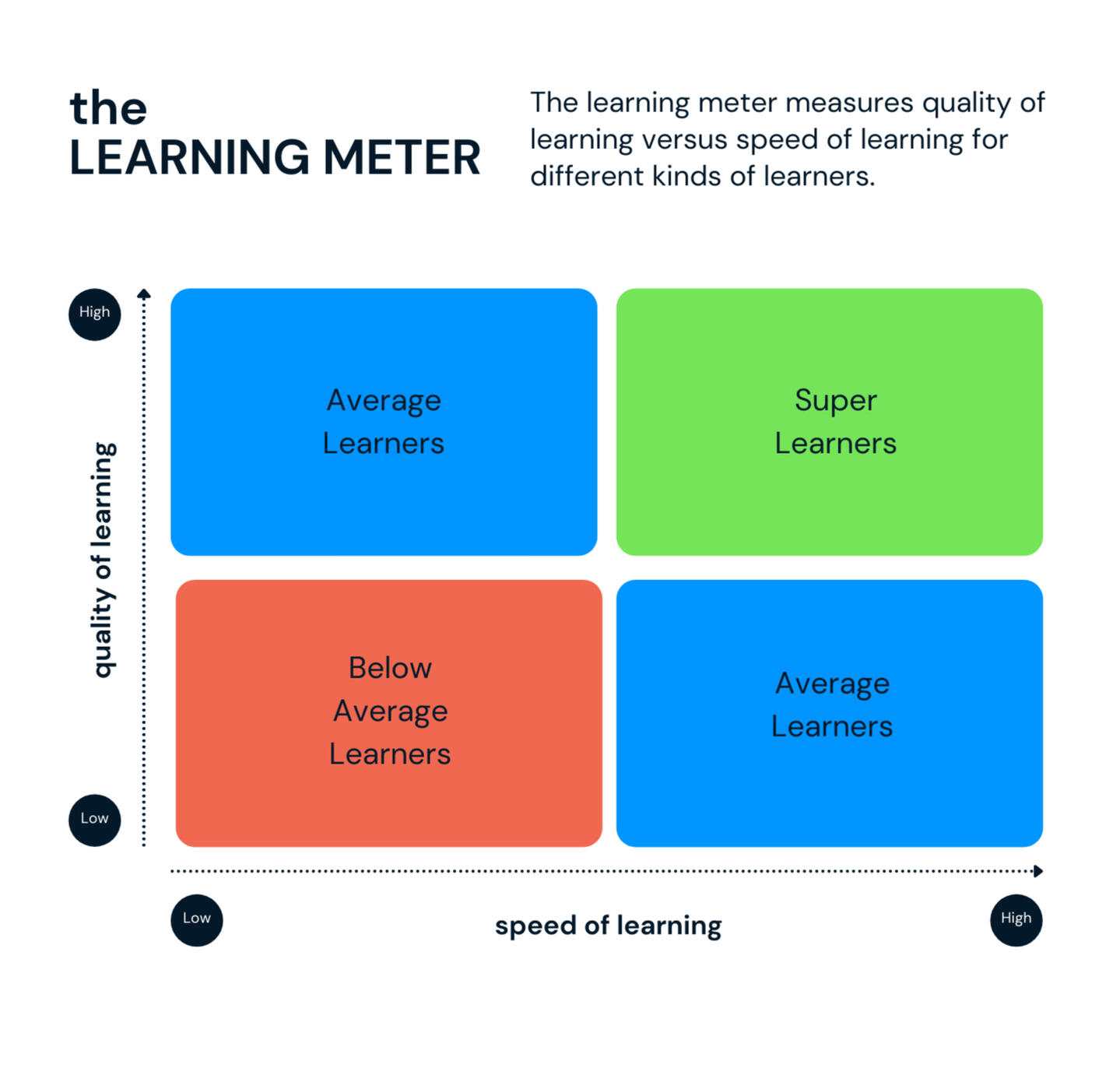 Superlearning for High Achievers guarantees to make you a more efficient learner.

Efficiency gains come from two sources:
1. The methods you apply will enable you to learn faster

2. You will understand better and remember more, thereby making the learning more long term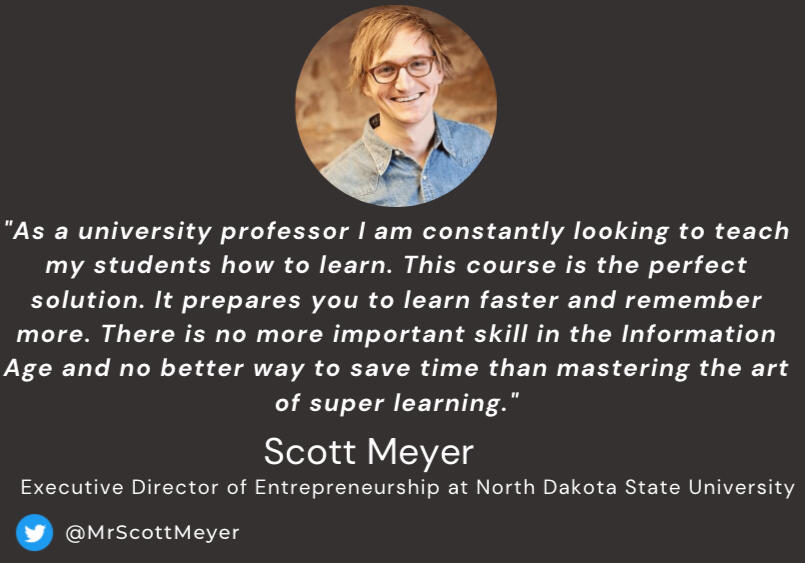 Superlearning = leverage
Superlearning enables you to make changes in your life rapidly.

People have used superlearning to gain professional qualifications in weeks instead of years, leading to salary raises and rapid career progression.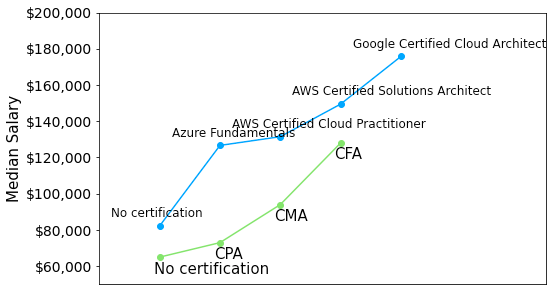 Sounds impossible?
Have you ever wondered how the best in your field got to their elite status?

They're not smarter than you. They just have a better system.

You can achieve the same results (and better!) with the right process.

A good process can take years to build. With our course you'll build it in just 5 weeks.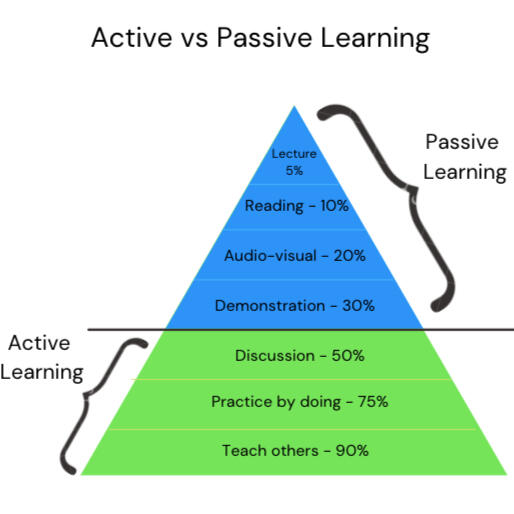 Our transformation promise
Change in the external world is beyond our control.

Change in our minds helps us cope with and even capitalise on things beyond our control.

Here is what we know you will be able to do after the course:

✅ Recall faster and foolproof your memory using techniques which improve recall by up to 290%
✅ Master a method used by a Nobel Prize winning physicist to understand anything better (94% gain)

✅ Foolproof study habits to stick to your learning goals and gain maximum benefit from employing your superlearning methods

✅ Learn techniques to apply your skills in the real world: in that critical presentation, meeting or exam

✅ Learn and apply a 80/20 framework that we use to decide our next highest leverage skill
What do you get?
✅ Live sessions where you learn and directly apply superlearning techniques

✅ Guest sessions by experts in practical learning and neuroscience

✅ Office hours for help with your study process

✅ Optional 1:1 coaching

✅ Accountability and support groups with fellow superlearners

✅ Access to our superlearning app

Everything applied directly to your current learning goal.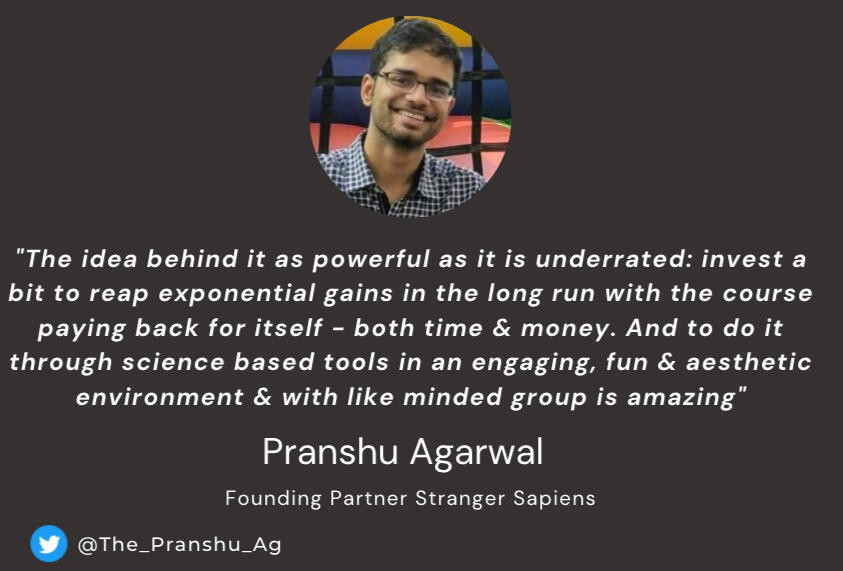 Your guides & co-superlearners
Dom Zijlstra
Originally Dutch, Dom learned 5 spoken and 5 programming languages. Along this learning journey he figured out some principles for what works and what doesn't work to learn something new.

His personal challenge was learning Chinese. He couldn't successfully learn all those characters with existing methods and apps. After creating a Chinese course just for himself, he then started building an app to make efficient learning techniques available to both students and course creators.

Dom has a master's degree in Engineering Physics. He has worked on spacecraft electronics at Airbus for 2 years, and then another 3 years as a data scientist and software engineer for London fintech company Iwoca. He now works full-time as a tool and course creator.
Ryan Chadha
Ryan is an educator and is the founder of 2 progressive schools in Bangalore, India. He has designed and curated a curriculum that makes use of the innate curiosity that each individual possesses to propel learning. He has also created a successful game-based math curriculum called Dragnpi that has resulted in supercharging math learning in children between 6 and 12 years of age.

Ryan studied finance at undergraduate and postgraduate level. He previously worked in London first as an investment strategist and then as a trader. He was also co-founder of an online school called The Crypto University. Though he has (finally!) stopped boasting about it, Ryan even played professional cricket and has played against 4 of England's 2019 World Cup winning squad.He is passionate about making the latest scientific methods available to superlearners everywhere.
Do you really need a course to learn how to learn?
Learning how to learn is your highest leverage skill - and it isn't emphasized by the formal education system.

Sure, you could learn these techniques on your own. They are not a secret.

What is lesser known though is how to combine all these methods and techniques into a coherent framework that works for you.

In designing our own learning journeys over the last few years, and those of other people, we have realised that the difference between a learner and a superlearner is pretty small. But this small difference can add up to a lot over time.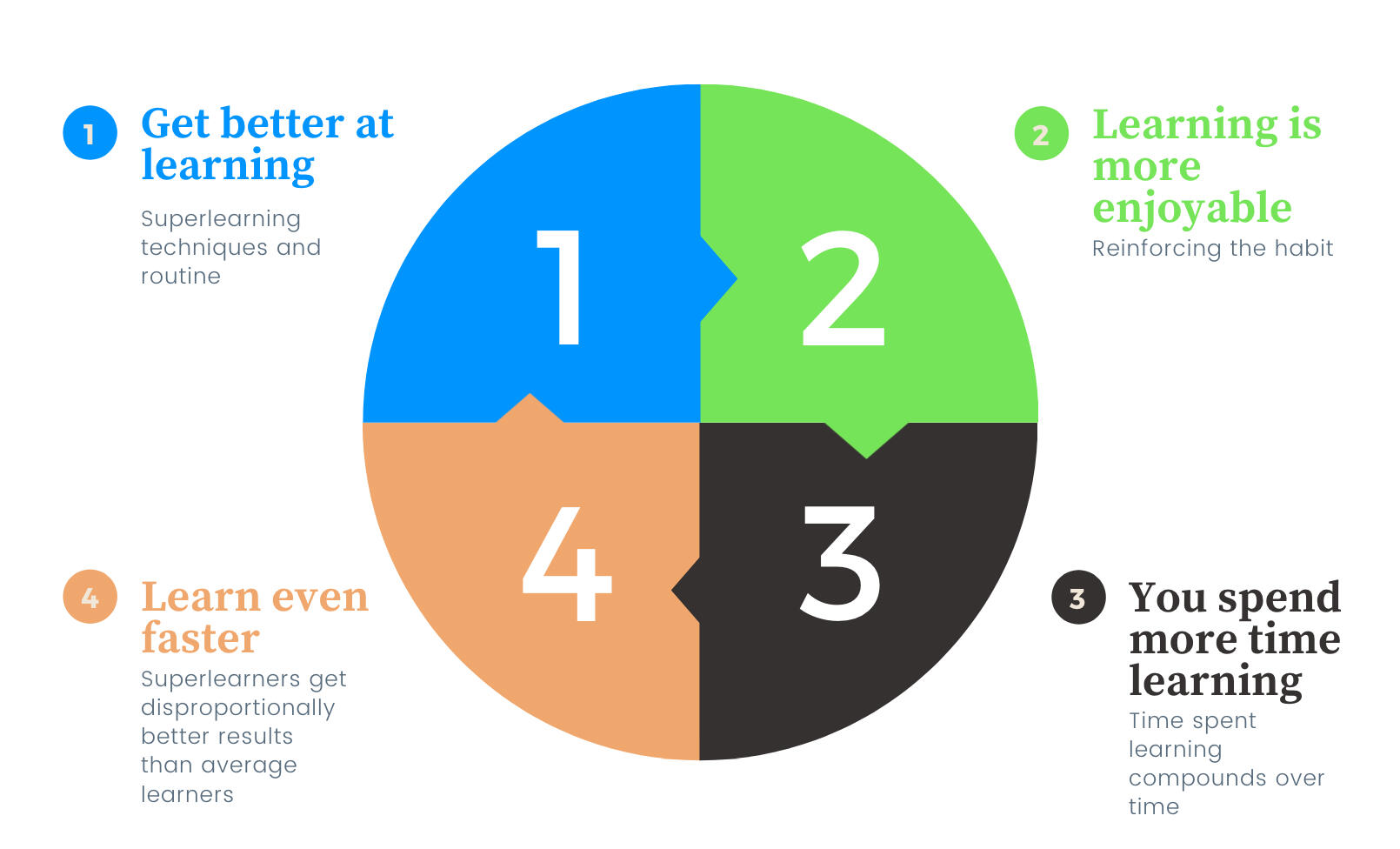 Superlearning for High Achievers is for you if you realise the power of building an edge for yourself. That little advantage in mindset and method that leads to peak performance. And when you do this in the company of like-minded peers who are also seeking out tiny, incremental improvements, the result is a community of superlearners that is far greater than the sum of its constituent parts.

The internet offers us all the opportunity to learn anything, often for little or no charge.

What it doesn't offer us is the ability to work with tribes in a safe space - where we can push each other to accomplish things that would probably take us much longer if we were to slog at it in our own silos.

In addition to learning techniques that will turn you into a superlearner, you will be part of a community where accountability and peer learning are baked into the process. The course is designed so as to ensure that you get ample opportunity to apply techniques, learn more about your own biases and perceptions, and to use this knowledge to supercharge your learning.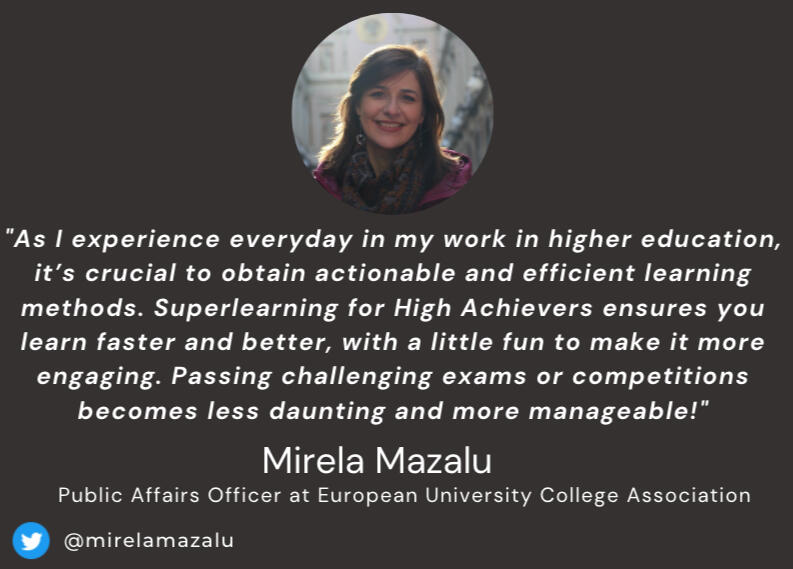 Our Promise Guarantee
We have used each of the methods we teach to great success in real life and are 100% confident that you will too.
So confident in fact, that we offer you a full refund if you don't reach the learning goal you set at the start of this course.*
* learning goal to be approved in advance, >50% participation in core sessions required for eligibility
FAQ
Shouldn't I spend this time learning what I want to learn now, rather than learning how to learn first?
We understand that the here and now matters just as much as the long term. That's why you will apply the processes in the course directly to you current learning goal, so you will reach it faster. That way the actual time spent on this course becomes negative!
Who is this course really for?
This course is for anyone who has a learning goal and wants to achieve the goal faster. Students, entrepreneurs, mid-career professionals, people learning new skills and language learners have all benefitted from superlearning.

We believe that lifelong learning is the only way to achieve great things. Superlearning techniques help you learn for the long term by investing in the short term.
I'm a student. Can I enroll?
Absolutely! Numerous studies show that when students apply the techniques we teach in the course, their academic scores increase by significant amounts. The time saving achieved from using efficient techniques helps students use their time better to build other skills.
I'm 20 years into my career. Will this course help me?
Superlearning is a state of mind, and not a function of age. As we grow older, the plasticity of our brains reduces, but we can stall and even revert this reduction in plasticity by engaging in new learning experiences. This course will give you the tools you need to keep your brain young and plastic!
Consider this...
Why risk never learning the skill you're trying to master? Never learning that language, failing that exam and lagging forever behind your peers?
Take control of your learning process and join the superlearning elite.
Apply for the beta cohort (26 spots left!)
As we're building this course, we will run a 10-day beta cohort starting July 5th!

The cost to participate in the beta cohort is $99. This is a huge discount as we will learn as much from you as you from us.

The final, full 6-week version of this course will eventually sell for $1500. The beta is being offered at a reduced price because it's shorter, and we're looking to learn from you! Because this is an early version, it includes 1:1 coaching sessions and additional feedback time.

By joining the beta cohort, you will get more direct feedback to move you forward faster and sooner. Plus, you get a discount to the full cohort once it launches in a few months.
Sign up for our free 7 day email course
Not ready to enroll yet? Join our email list to stay posted, and receive our free 7 day email course which gives you an insight into what Superlearning is all about.
* The science behind Superlearning for High Achievers
Dunlosky, John et al.: Improving Students' Learning With Effective Learning Techniques: Promising Directions From Cognitive and Educational PsychologyKahl, Woloshyn: Using elaborative interrogation to facilitate acquisition of factual information in cooperative learning settings: One good strategy deserves anotherVlach, Sandhofer: Distributing Learning Over Time: The Spacing Effect in Children's Acquisition and Generalization of Science ConceptsRawson, Kintsch: Rereading Effects Depend on Time of Test.Baddely, Longman: The Influence of Length and Frequency of Training Session on the Rate of Learning to TypeRoediger, Karpicke: Test-Enhanced LearningTaylor, Rohrer: The effects of interleaved practice. And: The shuffling of mathematics problems improveslearning.Woloshyn, Stockley: Helping students acquire belief-inconsistent and belief-consistent science facts: Comparisons between individual and dyad study using elaborative interrogation, self-selected study and repetitious-reading.Michelene et al.: Eliciting Self-Explanations Improves UnderstandingQureshi et al.: The method of loci as a mnemonic device to facilitate learning in endocrinology leads to improvement in student performance as measured by assessments